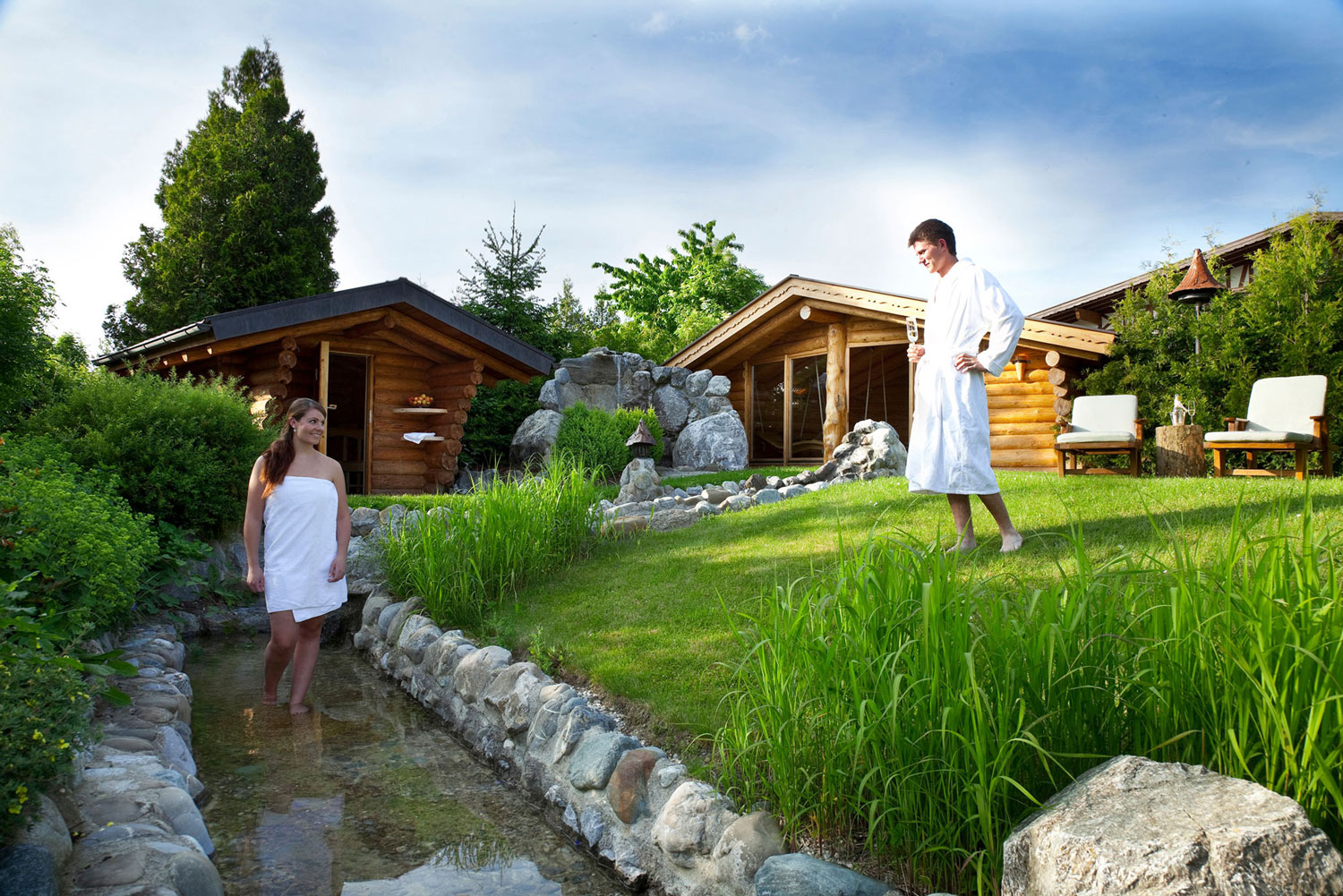 Welcome to the
Naturresort Gerbehof
Welcome to the
Naturresort Gerbehof
Our nature resort in the beautiful back up area to Lake Constance is something very special. The unique location in nature, surrounded by forests, meadows and fragrant apple trees, not far from Lake Constance, the Allgäu and the mountains of Vorarlberg, is an ideal starting point for countless activities of all kinds. The unique location and our house itself, the honest hospitality and our spa – and wellness offers make it possible to recharge your batteries, relax and enjoy a special time.
We are committed to nature, respecting the environmental aspects of everything we do. Accordingly, our offer is geared. Close to nature, by and with nature, that's what we stand for. Convince yourself.
We`re looking forward to see you.
You want to do something for yourself, for your body, for your well-being, for your health? You decided to change your diet or lose a few pounds? Or do you feel "angry" in every way and want to fast in another way, pausing at the same time and neutralizing and detoxifying with base fasting?
Then a Basenfasten-pleasure week is just the thing for you!
Take a break from everyday life and immerse yourself in the quiet oasis of our nature resort.
We help you through the Philippi-method, developed by Viktor Philippi, which contains a bioenergetic mediation and a bioenergetic massage to relieve stress, to relax and to release energetic blockages.
Enjoy relaxing days in our organic Landhotel Garni with a "time for two" – treatment in the new Private Spa with steam bath, hot tub, hay bed and much more.
Fasting according to Buchinger or also Basenfast promote the mental order and the psychological well-being – reflection and pausing on the one hand, detoxification and purification as well as weight reduction on the other hand.
Our Buchingerfast-special with chief Friederike Carlsson promotes a new health consciousness and the efficiency.
Spring and Autumn Symphony
Experience the spring awakening, the apple blossom at the lake of Constance and the play of lights in autumn.
Enjoy the relaxing head and neck Vegeto-treatment in our natural resort and combine your stay with countless activities of every kind.
Family time out in the nature, , not far from the lake of Constanc. Whether on the nature playground, feeding the animals or riding a ponie – at our hotel there`s a lot to experience. Here you will find a holiday domicile – child-friendly and unique in its ambience.
Experiences and peace of mind for the young family.
We are a member of the association BIO HOTELS. Therefore you can trust in the Naturresort Gerbehof to enjoy certified organic quality guaranteed!
In the middle of nature and yet everything is very close: 5 km from Lake Constance and the center Friedrichshafen away and surrounded by beautiful meadows, forests and apple trees. The fantastic location of our farm promises many recreational opportunities for young and old, sports and gourmets. For water sports it is recommended to explore the great Lake Constance. For all others, it is important to conquer the country by bike, horse-drawn carriage or on foot. Excursion destinations of sporting and cultural nature are in abundance.
For active, beautiful hiking trails extend through forests and orchards to numerous viewpoints overlooking Lake Constance and the Alps.
Sailing, surfing, diving, fishing, tennis, horseback riding or pony trekking … – Leisure activities more than enough and for all ages.
Für Aktive erstrecken sich wunderschöne Wanderwege durch Wälder und Obstplantagen zu zahlreichen Aussichtspunkten mit Blick auf den Bodensee und die Alpen.
Segeln, Surfen, Tauchen, Angeln, Tennis, Reiten oder Ponytrecking … – Freizeitmöglichkeiten mehr als genug sowie für jedes Alter.
If you are looking for something special, then why not try the nature resort Gerbehof am Bodensee in Ailingen near Friedrichshafen? In the beautiful Lake Constance region is a holiday home with many opportunities for a relaxing holiday and relaxing days. For accommodation you have the choice of the Bio-Landhotel Garni, a guesthouse or spacious holiday apartments. The Naturresort Gerbehof includes, among other things, a horse farm with its own horse breeding, a certified 30-hectare organic farm with 22 hectares of orchards with apples and pears. The location is unique. In the midst of nature lies our Biohotel between the orchards, forest and meadows. A resort would not be a resort, if not a feel-good offer was available. In addition to the 100% organic quality claim, the wellness offer will convince you. From pleasant treatments with products such as organic cosmetics to sauna infusions in the self-built log cabin, Basenfasten, organic meditation by Viktor Philippi to wild herb walks, insights into the world of smoking and forest bathing with the Japanese therapy for inner peace, restful sleep and a strong Immune system.
Not to mention everything about the horse and pony.  Riding holidays on Lake Constance. For individuals, couples and families. In addition to our extensive wellness offer, in which there is something for everyone, the Lake Constance region offers many recreational opportunities. Visiting cities like Lindau, Bregenz, Wangen in the Allgäu, Ravensburg, Meersburg, Konstanz, the island Mainau and also the island Reichenau … the list can be extended without end. Culture and sports, many things are possible. We are happy to advise you and can certainly help you with your design of a nice time with us in the nature resort Gerbehof. We are a member of Bio-Hotels, Bioland, Basenfasten after Sabine Wacker, Blue Swallow and Land Selection. The Wagner family and our team look forward to welcoming you to our Biohotel at the Lake of Constance.
We are very proud that our Naturresort Gerbehof has received the CO2 footprint and that we can also call ourselves a climate-neutral hotel.
We have had our hotel's CO2 emissions tracked and offset by acquiring a total of 23 allowances for 2020. With these certificates we support the project "UN CER Water Mali".